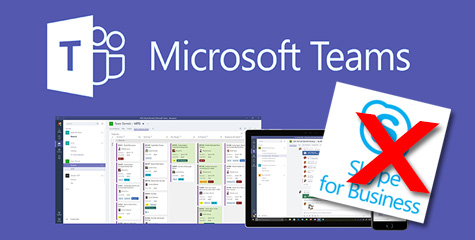 If you're one of our customers — or if you will be soon — there's a good chance that your business runs on Office 365. From email, to meetings, to cross-business compatible document creation, Microsoft's suite of productivity tools continues to beat expectations.​
​
Microsoft introduced Teams as the next-level replacement for Skype For Business in 2017. Since then, they've been nudging users in that direction. Now that it's 2020, they're serious about moving everyone over: Skype For Business is no longer an option for new users, and Microsoft will stop supporting current users mid-2021.​
​
What are some of the benefits of Microsoft Teams?​
​
​Meeting scheduling and execution all in one place.​
​
Tired of creating a meeting through Outlook only to find that half of the attendees have lost the conference call number or have a "glitch" with their web-portal connection? With Microsoft Teams the scheduling and communication all takes place in one application. No more excuses for missing meetings.​
​
File Sharing and Real-Time Collaboration. ​
​
Microsoft Teams automatically creates space for team-related documents. Your shared files and folders will be backed-up and, if you choose, editable for collaboration. Watch in real-time as your team works together to create, edit, and enhance new items. ​
​
Seamless integration with all of the Office 365 programs that you use everyday.​
​
As part of the Office 365 suite, only Microsoft Teams can deliver bug-free interoperability with all of the programs that you've counted on for years. And as an Office 365 subscriber, it's free. That's something that 3rd party solutions like Slack can never match. ​
​
If you've been using Skype For Business, you've probably got questions about the new software. We've got answers. Been holding off on fully enjoying the productivity-enhancing benefits your Microsoft 365 subscription offers? Now is the perfect time to get started! Give us a call today to find out more about leveraging Microsoft Teams to bring your team together.