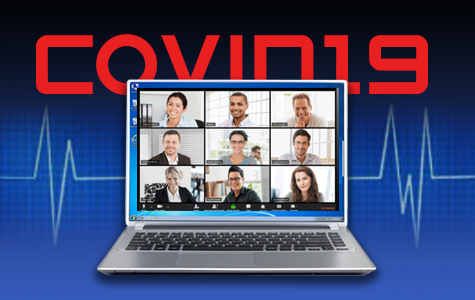 In the IT industry, we've learned to get comfortable with disruption. While the current Covid-19 crisis was unexpected, overcoming the challenge at your workplace requires much of the same technology — and calls for the same best practices — that we've already helped many successful clients put into place. ​
​
Now more than ever, your team needs to be equipped wherever work finds them. There are three essentials that every mobile-ready workforce needs to have at-the-ready: up-to-date devices running current software; collaboration tools to make teamwork easy and even enjoyable; and a robust network to maintain safe and secure user access across the internet.​
​
The good news is that there are more options available now than ever before. From established players like Microsoft to startups like Slack and Zoom, every new business software package assumes the possibility of a mobile-ready workforce. Below are some tips and recommendations that will apply to your team regardless of the specific solution that your office has chosen to implement.​
​
Have a dedicated workspace:​
​
Your home office doesn't have to be large or elaborate, but an essential part of staying organized — both physically and mentally — is to have a place in your house where work gets done. It could be a corner of the basement or a full-fledged unit built over the garage. But wherever it is that you "go to work" be sure that your internet connection is strong and that you can shut out non-work related distractions to focus on professional tasks.​
​
​Make a schedule, and respect your routine:​
​
While flexibility is an obvious bonus of working remotely, set expectations for yourself and build good habits around your workday. This not only helps you "get in the game," it also helps your co-workers know when they can rely on you. Are you the sort of person that logs in at 7:00 am? Are you a night-owl who can be depended on to deliver finished projects by the next day? Either way, that can work, as long as those expectations are clearly communicated and consistently met.​
​​
Embrace the video conference:​
​
If your organization hasn't enabled video on your conference calls already, expect it soon. New things are always awkward at first, but with a little practice, you'll find that video-enabled conference calls are easy to navigate and greatly enhance communication. They're also fantastic for introducing far-flung co-workers to each other. Experiment with lighting and be aware of what's on the wall behind you. With a little effort and a clean shirt, you'll look just fine.​
​​
Engage with your colleagues, and expand your network:​
​
In the absence of real-life contact, it's even more necessary to go out of your way to build relationships with your team. Take the time to check in with your co-workers, send friendly notes, ask about their pets and kids — all things that you'd do at the office on a normal day. This is also a good time to build your LinkedIn profile and share advice and achievements with your colleagues. Yes, we're professionals, but we're people too.​
​​
Managing a remote team? This goes for you too:​
​
To harness the full potential of a remote workforce, but sure to set the tone and the example that you expect your team to follow. Regular and consistent feedback is a must, even if it seems redundant. Take a look at how information is spread through your company. If you've traditionally relied on casual methods of communication, you'll need to find a way to formalize that process. Schedule email updates, post regular announcements, and schedule recurring (video) conference calls. ​
​
Water-cooler conversations and office drop-ins might have been sufficient while everyone was on the same hall, but remote workers will need a more consistent source of information. Keep everyone in-the-loop. By setting clear expectations and following through, you may find that your team is performing better than ever.​
​
​Covid-19 is accelerating many of the trends that we've already been seeing in the industry. Use this as an opportunity. By implementing new tools and embracing new practices, your business won't just survive this current crisis: You'll be in a stronger position to take on the next challenge too.​